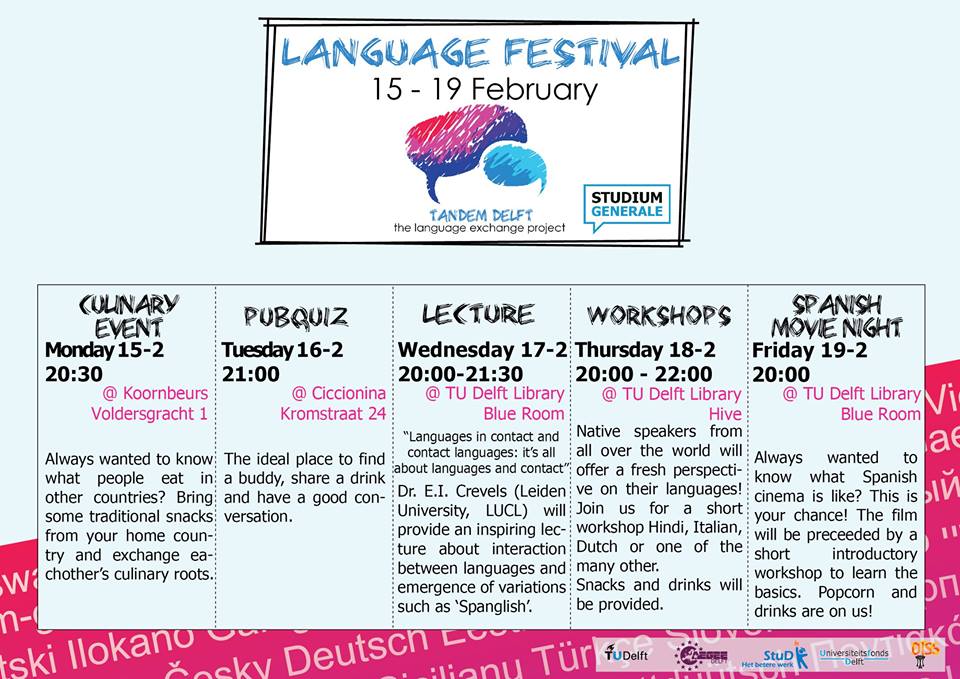 The famous Language Festival of Tandem Delft is back! From Monday 15 till Friday 19 February 2016 we offer you various ways to learn more about known and unknown languages. On each evening a different activity will take place: our opening culinary-event will be followed by a pubquiz and a lecture. Our well-known workshop evening will take place on Thursday evening and the closing movie night on Friday.
Join our activities during the Language Festival to find a language buddy, get acquainted with some new languages or just to have fun!

Het beroemde Language Festival van Tandem Delft is terug! Van maandag 15 tot vrijdag 19 februari 2016 bieden we je meerdere manieren om te leren over bekende en onbekende talen. Elke avond zal er een andere activiteit zijn: We openen met een culinair event, waarna we door zullen gaan met een pubquiz en een lezing. Onze welbekende workshopavond zal op de donderdagavond zijn en we sluiten vrijdag af met een filmavond.
Doe mee tijdens het Language Festival en find je language buddy, leer een paar nieuwe talen en vooral, heb heel veel plezier!