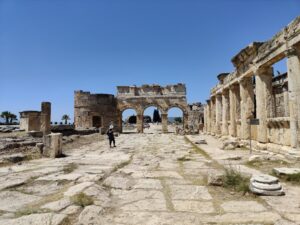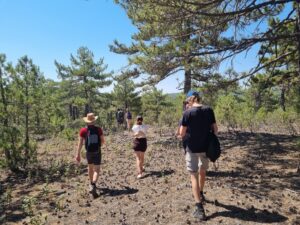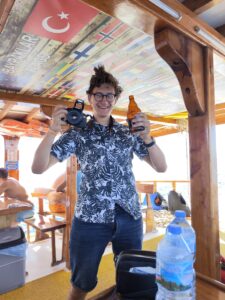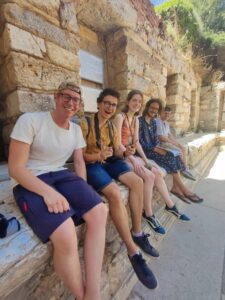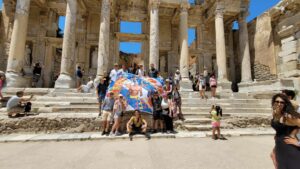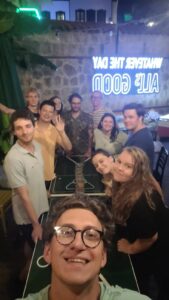 Van het moment dat ik in de taxi zat vanuit het vliegveld en naar de skyline van Istanbul keek, wist ik het al – wij gaan veel beleven deze vakantie. En of dat gebeurd is! Excess en gort, alles kwam aan bod. Van centurion en sangria tot shisha's en watermeloenen. Van raften en piratenschepen tot into the wild met de Turkse Robinson Crusoe. Van Izmirse excessieve skybars en Istanbulse gortige roftopbars tot stresspongen in Antalya. Van slapende Griekse/Romijnse steden onder en boven water tot slapende mensen op de achterbank. Van omcirkelende zwerfhonden en vluchten van wolven tot het bewonderen van wilde schildpadden in de droge bossen. Een paar dingen dat we écht overal tegenkwamen waren Turkse vlaggen en Atatürk achter elke hoek. Oh en Dries Roelvink vlag natuurlijk!
Ook hebben we een mooie parodie gemaakt op een episch nummer die we vaak gedraaid hebben deze vakantie, namelijk 'Ik ben kachel':
Wij gaan stappen
We gaan nu nooit meer kappen
We zijn een stel zuiplappen
We strooien met de flappen
Ik drink Effes
De lira is in dépres
Het is een land vol excess
Aan mn mond zit weer een fles
Al in al, ik heb een ongelooflijk leuke tijd beleefd. We hebben gezwommen, geskuurt, geëscaleerd, gehiket, geraft, gezweten, gebarft, kou geleden, longen uit ons lijf gezongen, gedanst, salto's gemaakt, gesprongen, haren geknipt, gescamd, geld afgeperst, souvenirs gekocht, blote voeten verbrand aan het zand, grotten verkend, tomaat geworden, bruine beer geworden, genoten van augurken, gestorven door augurken, locals ontmoet, nieuwe gerechten geproefd. Ik heb zin in de volgende (lustrum)reizen!
Geschreven door Maxim Mazurovs