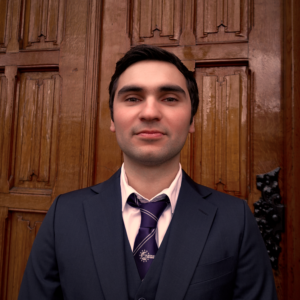 Hey! My name is Koray and this year I am going to be the president of AEGEE-Delft. Currently, I am 23 years old and I just finished my bachelor of Applied Physics at the TU Delft. I finished my bachelor's by travelling through South America for three months which was awesome. 
In my free time, I do a lot of things related to music. Through the years, I have collected a lot of vinyl which I listen to once in a while. But besides listening to music, I also love to play music! When I was 8 years old, I started to take music lessons for playing the French Horn – a bass instrument – and although I quit the lessons, I still play in my hometown's wind orchestra once a week (well, at least I try to). In recent years, I have also taught myself how to play the guitar so I can accompany myself whilst I sing.
Next to music, I have a great passion for food. I particularly love eating food, but I definitely don't mind rolling up my sleeves to cook something. My love for food probably comes from my Indonesian roots. It is in their culture to eat together and to cook food with a lot of taste (so no AVG). My favourite dish is Gado Gado, which is a rice dish with vegetables, Tahoe (tofu), egg, kroepoek, and a delicious peanut sauce from Indonesia. 
My idea for doing a board year came from my aspiration to develop myself in multiple areas different from just learning information from a textbook. I also wanted to give something back to AEGEE-delft since I have thoroughly enjoyed the last couple of years in this association and gained some beautiful friendships along the way. My main goal for this year is improving and sometimes underlying the enjoyment of doing a committee. And of course, I want to create some unforgettable moments for our members by organising epic trips and events together with the committees.
As a final note, I have been asked to choose my favourite connection to the Wild West. After some thinking, I chose Ennio Morricone, a composer who composed some of the most iconic movie soundtracks for western movies like The good, the bad and the ugly. Everyone will recognize it when they hear it.