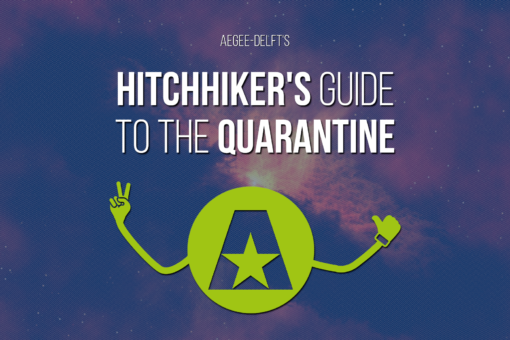 This planet has – or rather had – a problem, which was this: most of the people living on it were unhappy, for pretty much of the time.
Many parallels can be drawn between the opening of Douglas Adams' Hitchhiker's Guide to the Galaxy and the world we live in today. Adams' Earth begins as an unfashionable little world, cut-off from the vast and thriving galaxy, much in the same way that we are quarantined from the amazing world outside. Luckily, the protagonist Arthur Dent meets an alien who shows him the wonders of the universe using the Hitchhiker's Guide to the Galaxy. Similarly, you can discover how to break out of your isolation using AEGEE-Delft's Hitchhiker's Guide to the Quarantine! We will share 42 (or less) tips and conclude with a list of helpful resources.
DON'T PANIC!
Arthur Dent was grappling with his consciousness the way one grapples with a lost bar of soap in the bath.
Every single one of us is currently dealing with a situation that nobody has ever had to experience before. This can be very overwhelming and stressful. Coming to terms with the situation and fully letting it sink in is still hard. Don't worry if you haven't fully adapted to the new 'now', or if you are frightened. It can help a lot to talk to somebody about your feelings, which brings us to the next point:
Stay in touch
How do you know you're having fun if there's no one watching you have it?
Humans are social animals by nature. You can feel better by calling someone, playing games together, or studying together. If you are doing fine yourself, do you know somebody who might appreciate a call? Just some human contact can really make somebody's day. Missing summer? Arrange an online reunion with your Summer University mates!
AEGEE-Delft offers many ways to stay in touch with your AEGEE friends. You might have seen our Discord server already, where you can chat, study and play games together (see the newsletter or ask the board for the link). We also organise two activities every week where you can have a good time with some familiar faces!
Longing for travelling all across Europe? We recently organised a chat roulette with AEGEE-Passau and will continue to organise activities together with other locals from the network. You can also check out the AEGEEans in Quarantine Facebook group!
Dress up
As he came into the light they could see his black and gold uniform on which the buttons were so highly polished that they shone with an intensity that would have made an approaching motorist flash his lights in annoyance.
An advantage of staying at home is that nobody (or only your housemates) can judge you for what you wear; so you can wear the most comfortable outfit every day. However, sitting in your sweatpants and old T-shirt all day can also make you lazy. Dressing up nicely can improve your motivation and make you feel better. And again, nobody will judge you, so what is holding you back? Put on your suit and tie and start working in the front row of your room!
Don't give up on studying
"Would it save you a lot of time if I just gave up and went mad now?"
Many of us struggle to study from home now. We want to help with that! Have you seen TU Delft's brand new webpage on remote studying already? You can find a plethora of tips, tricks and resources to help you in your studies.
AEGEE-Delft also offers many options to help you study. Have you signed up for a study buddy already? Marlijn will match you with another member based on what you would like to have a buddy for, whether it is for motivation to start, help with a particular subject, or just a companion. We also offer an online study space on our Discord where you can study together in voice and text channels!
Find a rhythm
"Time is an illusion. Lunchtime doubly so."
It doesn't matter if you stay up till late and sleep in or go to bed early and rise with the sun. Finding a rhythm that works for you can help you to achieve structure in your life, even if you get out of bed at regular lunchtime!
Enjoy the weather (responsibly)
A less strong-minded sun would probably have gone straight back down again, but it continued to climb its way through the sky and after a while the influence of its warming rays began to have some restoring effect on the feebly struggling creatures.
The sun has undeniably been incredibly kind to us the past couple of days. While we are (still) allowed to go outside to get some fresh air, take advantage of this beautiful weather! Some of us have the luxury of having a garden or balcony where they can soak up the sun and get some Vitamin D. If you don't, you can still open your window for some fresh air. When you do go out of your house, please follow all regulations, like keeping your distance and not forming groups. Getting 'a fresh nose' can really have a restoring effect!
Enjoy the silence
The engines howled and whined like tired children in a supermarket.
Many of us are living hectic, stressful lives. This crisis might be just the break you needed. Roads are empty and you might not have to rush to school or work anymore. Why not enjoy it while it lasts?
Add some noise to your life
The roar of silence echoed dismally around them.
Some people like the quiet. For others the silence is deafening. Putting on some music, or even background noise, can give you energy, improve your mood and it might even help you concentrate! It can also fill in the gap of not having people around you. Do make sure that you don't listen to loud music for too long to prevent hearing loss!
Release your creativity
The function of art is to hold the mirror up to nature, and there simply isn't a mirror big enough.
You may find yourself staring out the window while daydreaming more frequently than usual. Maybe you are bored more often. You might start doodling on a piece of paper instead of focussing on your homework. This is very normal behaviour, and it could even help your productivity! Use these moments to release your creativity. Pick up a pencil, take a piece of paper and start drawing! Many great pieces of art were made in isolation.
Say goodbye to boredom
Nothing happened. For a full two minutes nothing continued to happen. After two minutes Ford decided it was time something happened. "Hello," he said.
Do you feel bored more often because your lectures or work got cancelled? There is so much you can do! You are invited to join other AEGEE-Delft members on Discord to play games together or have a chat.
Many other AEGEE locals around Europe also organise fun activities that are open to all AEGEEans. You can find those in the calendar of online events of the AEGEE network or in the AEGEEans in Quarantine Facebook group.
Share some love with those you hold dear
After a while an animal—a deer perhaps—would appear from out of the trees and watch him cautiously. Ford would continue to smile at it, his eyes would soften and shine, and he would seem to radiate a deep and universal love, a love which reached out to embrace all of creation.
Crises bring out the best in people. We all need each other to get through this together. This is the best time to show some gratitude, love and appreciation to your friends and family. Just some kind words can make someone's day, and it will brighten up yours as well!
Be mindful of your mental wellbeing
Arthur's consciousness approached his body as from a great distance, and reluctantly. It had had some bad times in there. Slowly, nervously, it entered and settled down into its accustomed position.
You probably have heard of mindfulness and the importance of mental wellbeing a million times already. It is good to know that many struggle with this in one way or another, and that there is no need to feel bad about that. If you need somebody to talk to, you can always contact our safe persons for a confidential conversation.
Always bring your towel
A towel has immense psychological value
Although prime minister Mark Rutte has assured us that we can 'poop for ten more years', you can never be too sure. In case you ever get yourself into the situation that the toilet paper has run out, having a towel with you might be your last bet. And you can also 'wet it for use in hand-to-hand combat' or 'wrap it around your head to ward off noxious fumes'. N.B. We do not promote the use of towels as a replacement for medical protection such as face masks!
Stay positive
"In an infinite Universe anything can happen," said Ford. "Even survival. Strange but true."
It can be easy to get caught up in the negative news that is all around us. Still, there are many beautiful things happening, and in many countries the situation seems to be improving. Once all of this is over, we will come out stronger than ever. Hopefully we will emerge as better persons and stronger societies in a more united Europe!
So long, and thanks for all the love!
Julian van Loo, AEGEE-Delft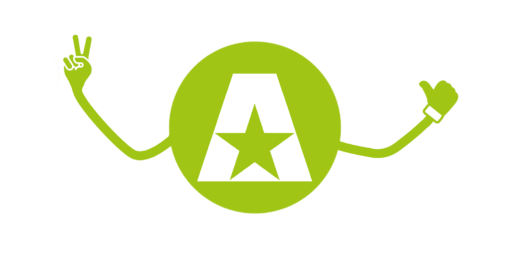 Useful resources
TU Delft's Wellbeing and Study student's portal
Get help with your study choice at studievisie.nl
Find your AEGEE Quarantine Buddy
Calendar of AEGEE-Delft events
Calendar of other online AEGEE events
Dutch RSI Association: Working from home in a healthy way
Become a blood donor at Sanquin
Donate to or volunteer at the Red Cross